For most patients, today's healthcare system works as it was intended. But for complex patients, those defined by the combination of a chronic illness, a mental health condition and substance abuse, accessing the healthcare system is like trying to fit a square peg into a round hole.
Hennepin County Medical Center (HCMC) needed to create unique and responsive ways to care for the experiences of its complex patients, who are more likely to face barriers in following their doctors' orders. In order to better understand the people they serve, and support them in living healthier lives, HCMC turned to the human-centered design process for creative approaches.
Project Outputs
Strategies
Within the healthcare system, health had primarily been approached as a destination, an end goal for patients to achieve. Yet successful community partners saw their interactions as moving someone along in their journey. This project introduced a strategic shift towards a journey-based model of care.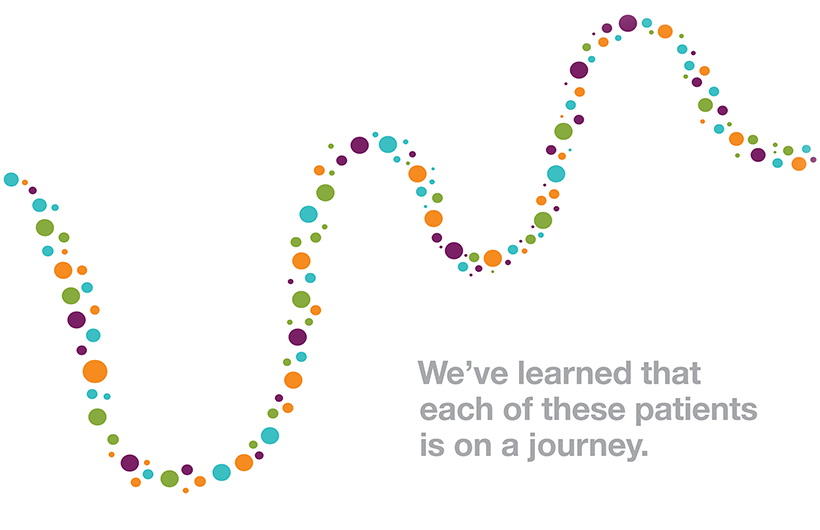 Tools
One concept we designed, called Priorities Conversation, was a protocol of questions to aid medical assistants in engaging patients during the intake process. Its purpose was to help the care team understand a patient's "big picture," rather than only addressing their specific medical complaint. We worked with a primary care team to prototype and test this tool in a clinical setting. HCMC is continuing to iterate on the concept.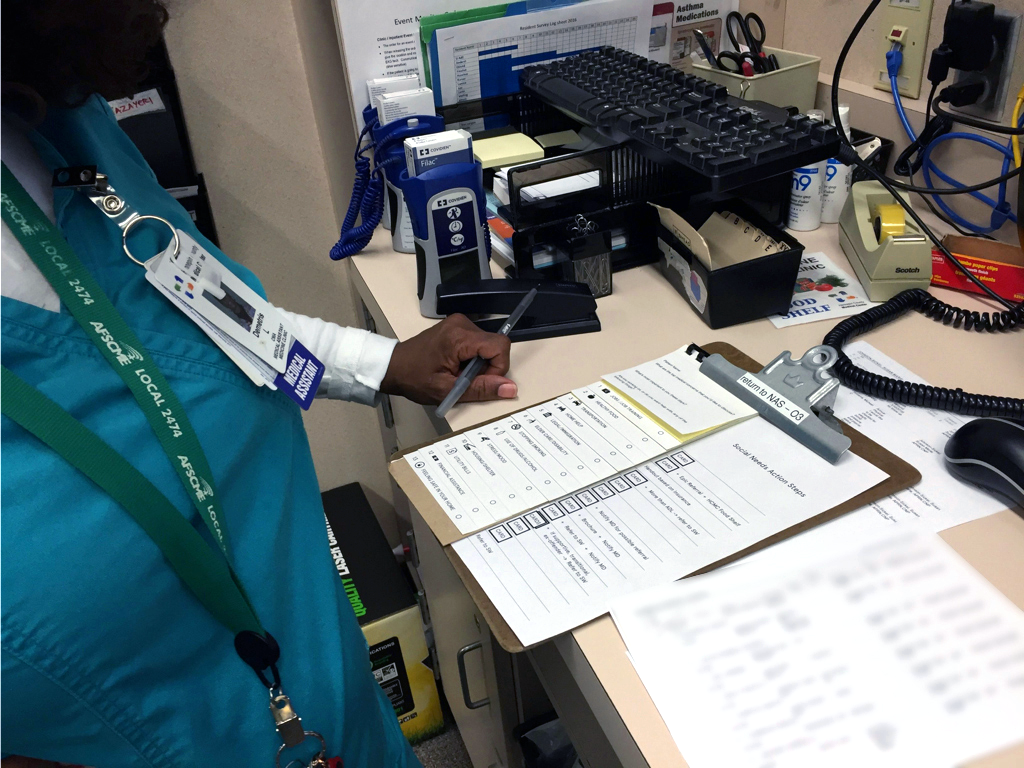 Programs
One program we developed, called Members Give Back, was meant to connect complex patients with work and volunteer opportunities. This concept was built off the insight that many patients desire to do more than take from society – they want to give back. We worked with a team at the HCMC day treatment center to prototype the program, in partnership with a local workforce development provider. The group built a curriculum and worked closely with 10 patients to help them build skills and find jobs. One year after the pilot, 100% of participants still had their jobs and/or were volunteering. The results have also shown a reduction in Emergency Department utilization and a decrease in inpatient stays.
The GGS team opened my eyes to the truth that there's more than one way to solve a problem. Their research reframed longstanding problems as opportunities."
Client & Community Outcomes
Mindsets
By the end of the project, HCMC staff cultivated a deeper understanding of complex patients' experiences and how to better support their needs on their journey towards healthier lives. After watching video of a patient traveling to and from her appointment, Patient Experience Officer Sheila Moroney shared, "This is the most I've learned about our patients in all the years I've worked at HCMC."
Behaviors
Many concepts developed through this engagement were fast-tracked to implementation by HCMC's team. One concept, Hitch Health, has already been spun out as a separate C Corporation, and is being offered to other safety net health systems. It's a software product that seamlessly removes transportation barriers to and from the appointment, yielding powerful behavior change by decreasing clinic no-shows.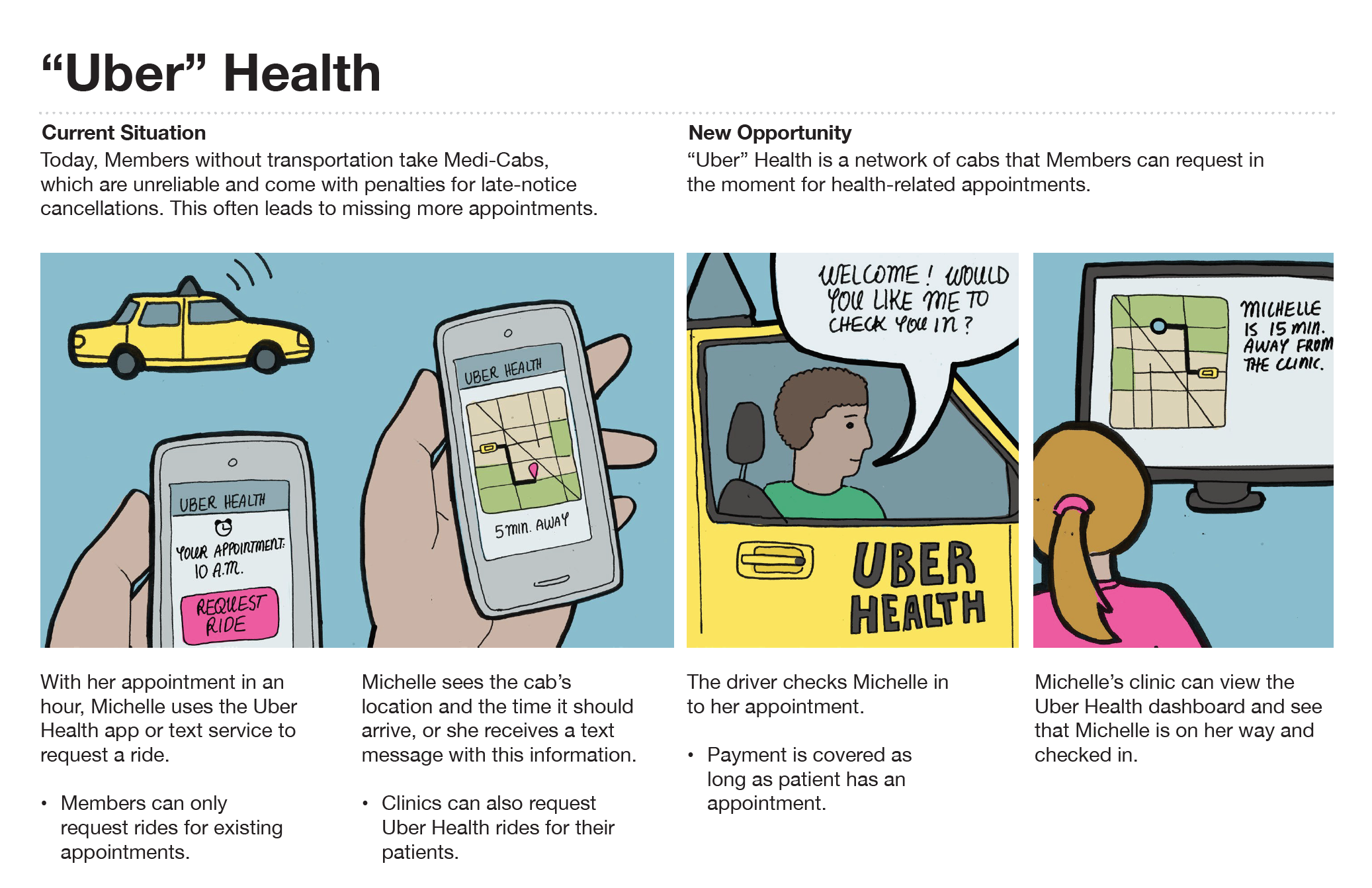 Culture
Our work coincided with the beginning of a culture shift at HCMC. The newly formed Upstream Health Innovations team had a mandate to shift the health system conversation towards a more proactive and holistic approach to health. Our work increased the organization's understanding of the social determinants of health in communities, and opened the door to further collaboration with local community partners.
SaveSave
SaveSave