Addressing Barriers to Black and Latino Homeownership
with Wisconsin Housing and Economic Development Authority (WHEDA)
Client
The Wisconsin Housing and Economic Development Authority (WHEDA) is a housing finance agency that works to stimulate the state's economy and improve the quality of life for Wisconsin residents by providing affordable housing and business financing products.
Geography
Wisconsin
Topic Areas
Community Development
Economic Inclusion
Project Types
Programs & Services
For many Black and Latino homebuyers in Wisconsin and across the country, the homeownership process comes with challenges and obstacles that are rooted in years of systemic inequity. These inequities stem from historical practices such as redlining and discriminatory practices, and have only been exacerbated by recent crises, including the 2008 recession and the COVID-19 pandemic.
Recognizing that increasing homeownership among Black and Latino residents is a critical component of WHEDA's mission, WHEDA partnered with Greater Good Studio to undertake a collaborative, human-centered initiative to develop solutions to these obstacles and increase homeownership among communities of color.
We began by building a project advisory board comprised of leaders from the homeownership field from within WHEDA and from other organizations across the state. They helped us identify research participants, review and validate research based on their own experiences and expertise, and prioritize concepts for prototyping and piloting.

We learned directly from African American and Latino residents about their homeownership journeys, their perceptions of homeownership, the emotional experience of buying a home, and the assets and the barriers they encountered along the way. We also spoke with a range of homeownership professionals including loan officers, real estate agents, and housing counselors about their experiences supporting homebuyers of color.

From that research, we identified several key insights, or takeaways. Some insights pertained to a homebuyer's perceptions of homeownership. Others pertained to a homebuyer's journey, or active process of pursuing homeownership. And lastly, some pertained to the homeownership ecosystem, which encompasses the professionals, organizations, policies, and programs that affect the homebuyer's experience.

Through a series of community ideas workshops, we generated dozens of ideas for programs, services, policies, and tools that would address barriers to homeownership. These workshops were virtual, open to the public, and translated in real time into Spanish. They were attended by nearly 100 residents throughout Wisconsin.

We looked for trends and patterns among these ideas. From this analysis, a set of high-level strategies and concrete concepts emerged. We created prototypes for a prioritized set of ten concepts, which we shared with African American and Latino homebuyers and owners, as well as homeownership professionals.

Based on feedback, we identified four pilots which WHEDA could implement themselves or through partnerships. Two of them were launched immediately and two were scheduled for subsequent phases.

We met regularly with the two pilot teams to offer coaching as WHEDA took the lead on pilot development and learning conversations with potential pilot partners and informants.
Project Outputs
Products
A group of subject matter experts are developing a first mortgage product that uses a blend of automated and manual underwriting to offer a wider range of loan options for community members who might not otherwise qualify.
Programs
We partnered with youth education practitioners to create a financial empowerment program pilot that shifts mindsets around home ownership, helps youth build relationships with housing and banking professionals, and uses experiential activities to gain tangible skills to draw from when they are ready to start the homeownership journey.
Communications
Our final report provides 12 research insights about the homeownership experience and a bank of over 20 strategies and concepts that can be referenced for further development in the future. View the report in English and Spanish.
This is the best research project I've been a part of. This has been a great process. I feel like I've been able to authentically be myself and share what I know in a safe space.

Niesha
Client & Community Outcomes
Mindsets
By the end of the project, WHEDA staff had arrived at a better understanding of the systemic barriers Black and Latino homebuyers face throughout all stages of the homeownership journey.
Behaviors
Leadership embraced the value of experimentation and open collaboration, sharing that this was a new way for their team to work that allowed them to be more nimble and innovative as they designed impactful concepts and approaches.
Culture
WHEDA is continuing to strengthen its commitment to innovative practices like human centered design across several key initiatives. They are also moving to embed community-driven engagement and research as core skill sets by providing enhanced training opportunities across the organization.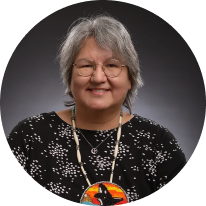 It has been super interesting to learn about your process, and how we can use it. You're very good at un-sticking us, when we're stuck. That's the biggest thing I've learned – how to take a step back, and un-stick yourself.

Sherry Gerondale