Visually transforming a leader in small business lending
with Allies for Community Business
Client
The mission of Allies for Community Business is to provide the capital, coaching, and collaboration entrepreneurs need to grow great businesses in their communities.
Geography
Chicago, IL
Topic Area
Economic Inclusion
Project Type
Digital & Physical Tools
Visual Identity
Allies for Community Business (formerly Accion Serving Illinois and Indiana) provides low-cost capital in neighborhoods that most banks ignore. In 2020, a number of changes struck the organization at once: a 4x increase in lending due to the Covid-19 pandemic, a strategic planning process which aimed to define the next chapter, and a departure from parent company Accion International.
The team needed to reintroduce itself to investors, clients, and partners with a new name, visual identity, and website. Most importantly, these assets needed to be reflective of their audience's needs, built upon their strengths and assets, and embraced by their staff and stakeholders.
During the research phase, we conducted Reflection Sessions with current clients, staff and stakeholders to understand their perceptions and challenges with the current name, visual branding and website elements.

We audited the current brand as well as the peer landscape, analyzing logos, color, imagery, photography, infographics, iconography and illustrations.

After sharing out findings from our research, we facilitated a Brand Ideation Workshop where the team responded to prompts with ideas for names, taglines, visual identity components and website features.

After Ideation, we held several prototyping sessions with clients and staff members to narrow down options for name, tagline, and visual direction. We then held a Definition Workshop to share the feedback we'd gathered and land on final decisions.

We worked through rounds of iteration and feedback with the extended client team in order to arrive at a new organization name, logo and visual brand.

Finally, we mapped out a new website and translated the visual identity into screen designs.
Project Outputs
Tools
Through a co-design process, we arrived at a new name, tagline and visual brand identity for the organization that accurately and compellingly represented their mission.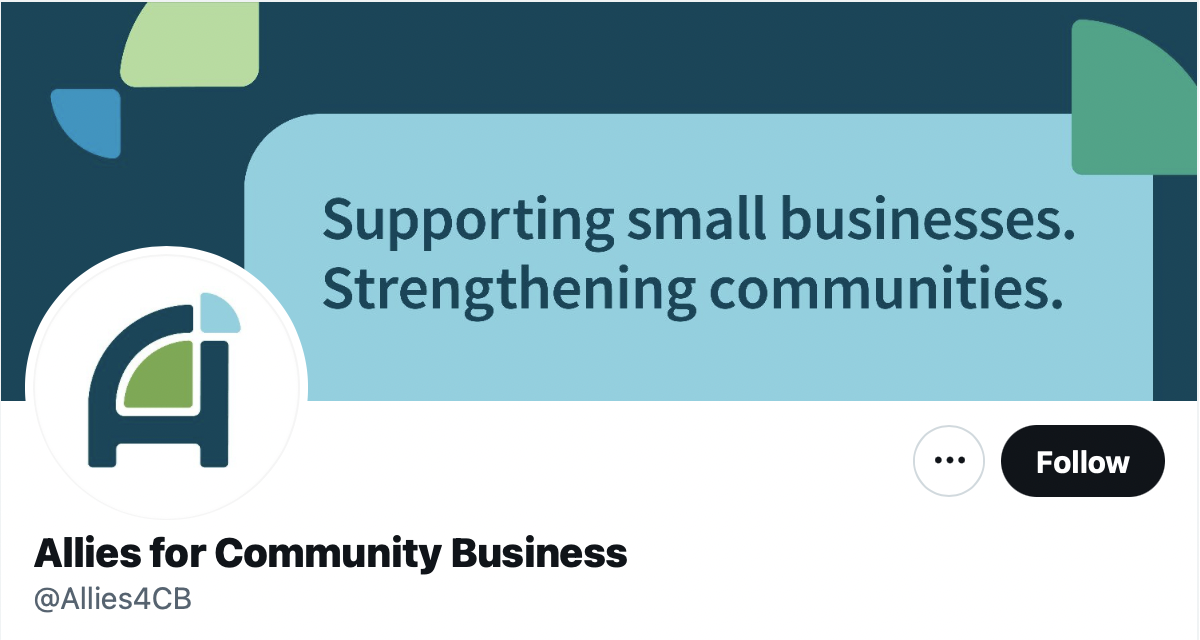 We designed a new website (in English and Spanish) that is clear and approachable.
The website not only provides the necessary technical information clients of a lending institution need, but it also reflects the emotional support and personalized approach the organization takes with its clients.
Explore the website at http://a4cb.org
Client & Community Outcomes
Culture
From the beginning of the project, the leadership of the organization wanted to ensure that staff members were included in the design process. We intentionally exposed the organization's staff to the Human-Centered Design process, bringing them behind-the-scenes with us whenever possible. We provided multiple opportunities and modes for providing input, and ensured that staff and stakeholders felt their input was heard and reflected in the deliverables.
When we needed to rebrand after 26 years of striving towards our mission, we sought a partner who would help us better communicate who we are, what we care about, who we serve, and how we deliver. Greater Good Studio provided us with everything we needed to create a powerful new brand: a new name, visual identity, tagline, and site. They helped us understand ourselves more clearly, and then helped us communicate our message to the world more effectively. We're delighted with the partnership and intend to work together again in the near future.

Brad McConnell
Team & Studio Impact
This project included re-naming an organization, and we have learned that this process is a delicate blend of rigor and subjectivity. After we brainstormed dozens of names with the client team, then sent out a survey with about 10 different possible names to their extended network of stakeholders, we still could not reach consensus around the options on the table. Out of a discussion at the final workshop came the name "Allies for Community Business," and suddenly we started to see alignment around this option. Names have a lot riding on them, and even when a name change is inevitable, it can still be difficult to incorporate a new name into one's sense of identity. In short, sometimes you have to go through a rigorous process in order to feel good about where you land.