Envisioning a new identity within the progressive movement
Client
re:power is a team of organizers, strategists, and technologists dedicated to building transformative political power. By partnering with individuals, organizations, and coalitions across the country, re:power uncovers leaders within communities to create radical change.
Geography
US / Nationwide
Topic Area
Civic Participation
Project Type
Communications
Visual Identity
As the U.S. political landscape shifted in the wake of the 2016 election, the progressive movement was becoming more focused on racial and gender justice. Wellstone Action was simultaneously in a state of discovery around its role as a trainer and capacity-builder. The team wanted to pursue a new identity that reflected their work and the world around them: bold, intentional, and rooted in change organized by and for historically marginalized communities.
We partnered with re:power (formerly Wellstone Action) for a human-centered organizational rebrand. We engaged a wide variety of stakeholders, co-created ideas for a name, visual strategy and messaging, and iterated with those audiences until the final brand was clear, compelling and truly owned by the re:power team. Now, their new name and visual presence serve dual functions: to reflect and honor the dynamic work they were already doing, and to illuminate their path forward as an organization.
To start, we conducted virtual listening sessions with the entire re:power staff to capture the range of opinions and perspectives their team held about their work. In small group conversations, we asked about how they see their work in the world, challenges with their current identity, and assets they wished to leverage in a new brand.

In addition to learning from staff, we listened to the people they serve. We conducted interviews with program alumni, organizational partners, trainers, funders, and board members over several weeks.

We supplemented our primary research with a visual audit of 25 peer organizations. This benchmarking captured a wide range of analogous examples including logos, colors, fonts, imagery, and messaging.

We welcomed re:power's team in Chicago to participate in research synthesis alongside our designers. Together, we sorted and categorized information collected from interviews and identified emergent themes.

During re:power's staff retreat, we led a Brand Strategy Workshop to present research and explore name, message, and visual direction ideas.

Then we narrowed down name and messaging options in order to gather feedback. During broad prototyping, we shared a survey with nearly 100 people actively engaged with the organization. They provided insight on which brand concepts resonated most powerfully with their experiences, and helped us further focus.

During deep prototyping, we presented these concepts more holistically, including visual strategy boards (pictured here), to three specific audience types: legacy donors, alumni, and trainers. We discussed which brand elements worked best together, and why, towards the goal of a harmonious brand "package."

Reconvening in Chicago, our designers and the re:power team held a final Definition Workshop to review and work on brand recommendations. We welcomed the client team's questions, feedback, tweaks, and edits and relied on our research data to support decisions. By the end of the day, re:power landed on a new name, a refined messaging framework and a visual direction that coalesced their new identity.

After the workshop, our team developed a new visual identity system including logo, color palette, and type. During this iterative process, we worked alongside re:power's in-house designer, knowing that they would ultimately implement the new brand guidelines across future touch-points.
Project Outputs
Tools
re:power's new brand captures what they do best: examine power in every context and speak truth to it, while offering a deeper and more precise set of written and visual language to identify as an organization. Their new mission, vision, and value statements serve as a roadmap for sharpening their analysis and focus in their work moving forward, and their new visual identity positions them as a bold and dynamic voice in their field. Our full scope of work included a new name and tagline; mission, vision and value statements; logo and other visual elements; and a temporary landing page for their new website.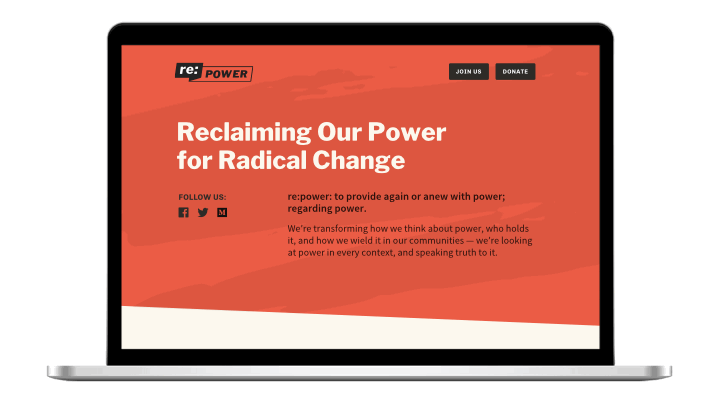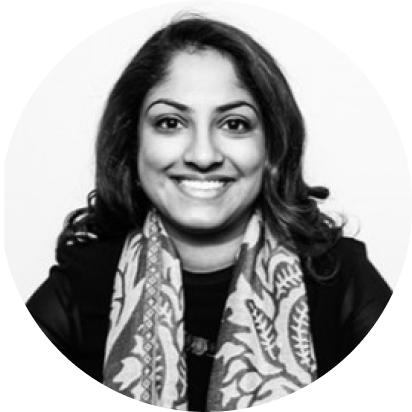 Modernizing a brand is a complicated project—modernizing a political brand is even more complicated. Greater Good successfully facilitated a process that spoke to the current political moment, honored the struggle for justice, and created a framework that made space for our people to be fully seen.

Deepa Kunapuli
Client & Community Outcomes
Mindsets
We introduced design as a tool for both problem solving and power shifting. To that end, we used the design process to invite more inclusive decision-making and greater agency for re:power's vast community of staff, board, alumni and partners. This inclusive co-design process equipped their organization to fully complete the transition into their new brand and ensure they felt ownership of the deliverables. "re:power is not just a new brand in the progressive movement, but a model for how human-centered design and social justice practices combine to further our goals of power building," explains Deepa Kunapuli, re:power's Vice President of Marketing and Communications.
Culture
re:power now shows up in the world with a new look and perspective, but with the same goal of building local leaders to make inclusive, effective changes in policy and politics with and for communities. The new brand catalyzes the organizational culture change that had already begun. It also contributes to the broader cultural landscape of organizations that are redefining politics—inclusive, unapologetic and focused on radical change.