Co-creating a vision for an anti-racist arts and culture ecosystem
Client
Imagine Just is a collectively-led and diverse coalition to imagine and build a just and transformed ecosystem that radically centers ALAANA/BIPOC* creatives and communities and intentionally advances liberated cultures.
The initial stages of this project were organized by a core team: Nina Sánchez and Marcus Robinson from Enrich Chicago, Amina Dickerson from Dickerson Global Advisors, Meida McNeal from Honeypot Performance and the Chicago Park District, Cate Fox from The Center for Cultural Innovation, and Ryan Priester from the MacArthur Foundation.
Geography
Chicago
Topic Areas
Arts & Culture
Community Development
Project Types
Digital & Physical Tools
Programs & Services
Like many other systems across the country, Chicago's arts and culture sector upholds white supremacy and other systems of oppression. Stark disparities exist in funding, leadership, access, and representation, especially across racial and ethnic lines. And yet, artists and cultural producers have been a powerful force in catalyzing positive change within communities throughout the city's history.
In 2020, when the Covid-19 pandemic caused a major disruption in arts and culture programming, leaders at Enrich Chicago and several of their collaborators galvanized around the concept of the pandemic as a portal, and saw an opportunity: to coalesce around the incredible artist-led work that was already happening, and envision the sector anew.
Inspired by their compelling call for community-driven transformation, we partnered with the core team of Imagine Just organizers to design a campaign for Chicago's arts and culture community to come together. The goal was to co-create an ALAANA/BIPOC*-led vision for a transformed arts and culture ecosystem, and to build the foundation for a sustained movement.
*African, Latinx, Asian, Arab, and Native American / Black, Indigenous, and People of Color
Like in any field where we enter as guests, we started by learning about the work that had already happened in this space. We analyzed over 20 comprehensive reports and initiatives, focusing on the intersection of arts and culture, racial equity, and Chicago. We were lucky enough to speak with several of the reports' authors and organizers, who shared opportunities, challenges, and lessons learned.

To bring Imagine Just to life in the digital world, we collaborated with the core client team to create a visual identity that reflected the project's energetic and resolute nature. We applied this identity to a wide range of touchpoints, such as social media, communication materials, and the Imagine Just website, giving shape to an already powerful concept.

The campaign's strategy relied on a team of ALAANA/BIPOC artists and cultural producers to provide critical guidance and leadership to the project. Ambassadors convened and co-created elements of the vision with their communities. Embedded artists created artistic works to capture the process and ideas within. Finally, advisors helped shape the overall strategy. Our team facilitated the selection of individuals for each of these roles across a range of artistic and creative practices, organizational roles, and geographic and cultural communities.

Throughout the initiative, the Imagine Just website was not only a digital home for the work, but also hosted a community gallery that prompted and recorded over 240 stories, insights, and ideas from co-creators as the initiative progressed.

The core team collaboratively planned and hosted a series of six virtual co-creation sessions with Chicago's arts and culture community throughout the summer of 2021. In these sessions, attendees worked in small groups to imagine new ideas for transforming leadership across the sector, increasing visibility of ALAANA/BIPOC arts and culture, and new models of funding and investment to support ALAANA/BIPOC creative practice in communities. Over 80 people came to these sessions from across Chicago, and even several folks from around the world!

Ambassadors hosted their own unique co-creation sessions as well, each convening a group of artists and cultural producers in their network in a meaningful way. Collectively they convened over 70 people. The stories and ideas from their conversations were also featured in the website's community gallery. Our team supported ambassadors in whichever ways they needed, from creating materials to taking notes during the sessions.

Across the 20 community co-creation sessions, participants generated over 240 ideas about how to create and sustain a just and transformed arts and culture sector. From there, we worked with the core organizing team, ambassadors, embedded artists, advisors, and additional participants to synthesize these community-generated ideas towards a shared vision with actionable strategies.

In close partnership with the core team, we planned and produced a series of Vision Kickoff events, as both a celebration of the work participants had done to get to this point and a launchpad for the Imagine Just community of practice. Members from the core team shared the living vision and invited attendees to join them in further shaping and guiding which ideas to prioritize. Enrich Chicago facilitators also supported attendees in creative expression activities — in one Kickoff, they wrote a collective poem together, and in the other, they wrote and performed a collective song!
Project Outputs
Tools
Inspired by the themes of disrupting justice and imagining new ways of being, a visual identity built public recognition of the initiative. This included a custom logo, font system, and color palette.
The Imagine Just website served as a digital home for the initiative. It was designed and built to be flexible for each of the campaign's phases. For example, during the initial phase of the work, website visitors could learn about the four key themes that prompted co-creation, register for public events, and contribute ideas to the tagged community gallery. Once the team articulated a living vision, the site hosted the vision framework, including actionable strategies and community-generated ideas. Visitors could also learn about the campaign process, share their own learnings, and join the Community of Practice.
We created branded social media content to post on the Imagine Just channels. These assets sparked the interest of a wide array of folks and brought attention to the community events.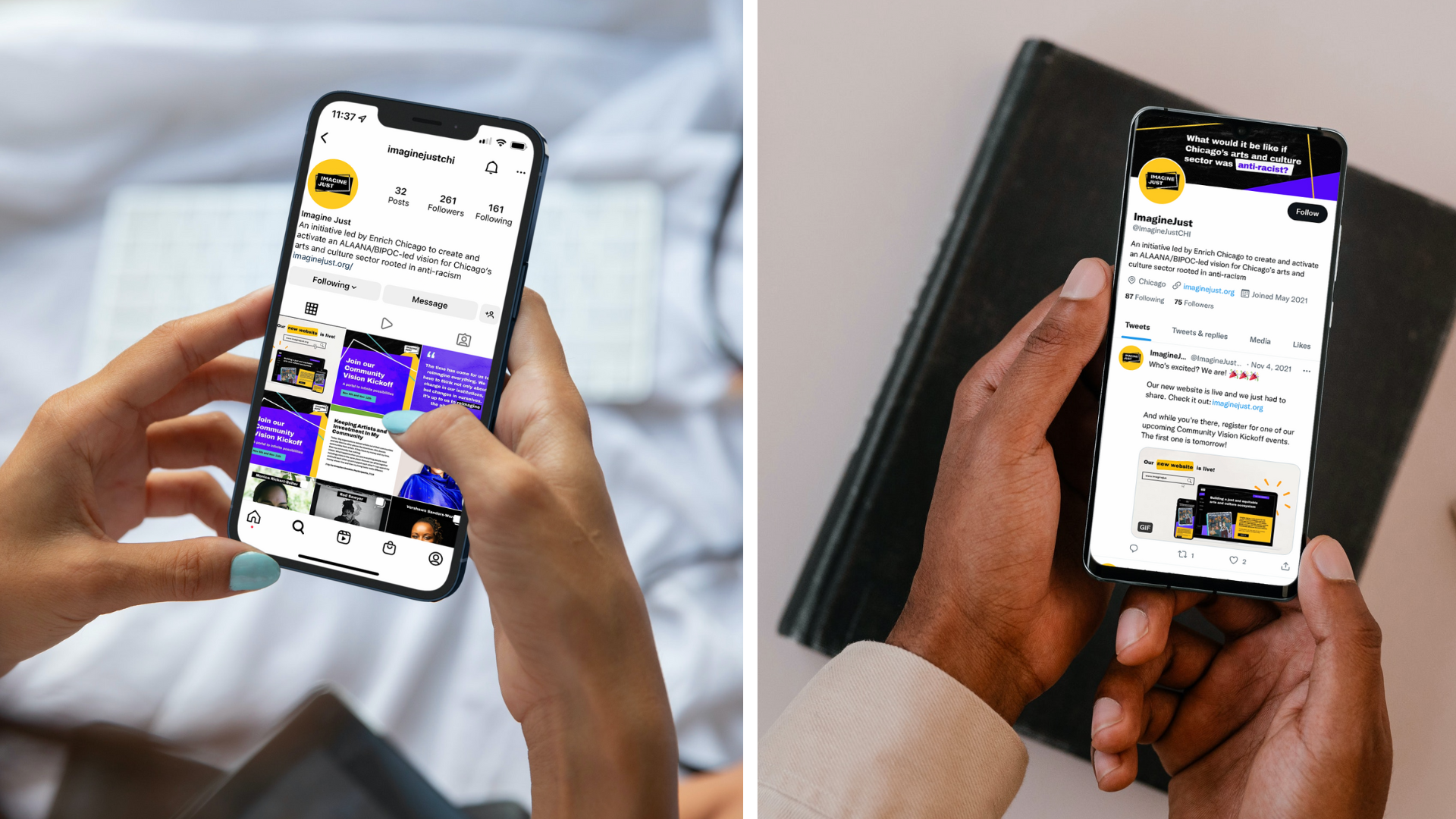 Throughout the project, we built a community database to stay in contact with folks who participated throughout the campaign. After registering for a co-creation event, or submitting an idea to the online gallery, we added community members to the database in order to send them demographic and feedback surveys, as well as invite them to participate in future events.
Strategies
Knowing that the priorities of Imagine Just will evolve over time, the vision was deemed a "living vision." The initial version centers on three pathways: creatives, community, and culture.
Each pathway in the vision includes several actionable strategies for systemic change, as well as tactical ideas from our community co-creation sessions.

The vision work is top notch. This is a very good beginning to some ambitious goals for the sector. We need to keep the energy and connection going in the next phase, but it feels like an opening is here, primed for a shift.

Meida McNeal
Client & Community Outcomes
Broad and deep mindsets
The community organizing effort behind this initiative relied on activating channels, like email and social media, as well as cultivating deeper connections between individuals and groups. As one of the core team members put it, "This culture sector work is a dance between big picture thinking and small intimate groups." Both types of work—and both types of thinking—were reinforced throughout this process, and were critical to arriving at a community-driven vision.
Radical imagination
The community engagement aspect of this project focused on accessible, iterative co-creation and co-synthesis sessions. These sessions sought to center the voices of ALAANA/BIPOC creatives; to balance the needs for personal reflection, collaborative ideation, and shared decision-making; and to build collective ownership and momentum around a vision. Through the formation of these brave and creative spaces, participants were able to share their truths and, in some cases, imagine radically alternative futures.
Connections across the sector
There is both a long history of racial justice organizing and a vibrant legacy of arts and culture work in Chicago, and in recent years there has been a groundswell of individuals and groups who center the arts and cultural production as a vital tool in liberatory work. This initiative sought to build on this existing momentum and further connect the individuals and groups already working to dismantle structural racism and oppression across creative disciplines, communities, and sectors.

This initiative provided a dedicated space for these folks to come together, reflect on their experiences and shared wisdom, and imagine a bold collective vision for Chicago's arts and culture ecosystem.
Community of Practice
With the launch of the vision, Imagine Just kicked off a Community of Practice to continue activating and evolving this work/movement. This ALAANA/BIPOC-led community is a space for folks from across the arts and culture ecosystem to continue coming together around three domains:
Funding existing and future community-led initiatives, projects, and campaigns that align with our vision through a community-advised fund
Engaging individuals and communities around key community actions and policy changes that advance the vision in solidarity with parallel groups and coalitions.
Practicing new ways of being and working together that center creative processes as a means for healing and transformation.
There is unrelenting commitment, adjustment, re-commitment, and continual work required by our organizations and ourselves to evolve the DNA of the arts in Chicago. I was honored to initiate conversations with artists, makers, leaders, parents and educators whose perspectives are often missing from the conversation, but to whom we are most accountable. The Imagine Just sessions provided essential human data. Now it's our job to put it into action together.

Megha Ralapati
Please visit ImagineJust.org to learn more about how the work is progressing and to get involved in the Community of Practice.
Team & Studio Impact
One of the unique aspects of this project was that our client team was decentralized: six people working for five different organizations. As a result, we tried a new practice: at the start of the project, we worked with the core client team to draft a series of project goals. Then, at the start of each new phase, we facilitated a "phase kickoff" session and revisited those project goals. It was fascinating to observe how everyone's sense of the purpose, and their shared understanding of the goals, deepened and changed with each phase of work. We learned that no matter how clear a project seems at the start, it's useful to continually revisit its purpose—especially on human-centered design projects, which are constantly evolving.