Honoring student writing through a digital platform
Client
Co-founded by internationally acclaimed author Dave Eggers and award-winning educator Ninive Calegari, 826 Valencia inspired a network of creative writing and after-school tutoring centers in seven US cities. 826 National serves this network with leadership, administration, and other resources.
Geography
US / Nationwide
Topic Areas
Education
Youth Development
Project Types
Digital & Physical Tools
Visual Identity
Writing can be particularly transformative for students from under-resourced schools. It's a chance to dream up brand-new worlds and express emerging opinions—to be authors, not just observers. Yet for many elementary and middle-grade students, writing simply isn't fun, and there aren't many examples of writing they love. Especially when "the classics" are typically written by, as one student put it, "old dead white guys."
Fortunately, 826 National supports a network of writing and tutoring centers nationwide that know how to inspire kids to fall in love with words. But with a model based in high-density urban centers, there were limits to how many 826 chapters they could open, and how many students they could reach. The organization came to us with a challenge: how could they scale their impact in an effective and sustainable way beyond their physical locations?
We began research by embedding ourselves within the organization. We visited writing centers, interviewed stakeholders, tutored students, volunteered in classrooms, went on field trips and attended staff meetings in order to identify the "must-haves"—the unique principles that any 826 experience should embody. These include inspiring curiosity, elevating student voice, and being exciting to adults.

Of all the potential end users, our team identified educators as the most strategic gateway to students. In order to best match 826 assets with teacher needs, we studied what writing education looks like today in classrooms around the country. Our team specifically chose to visit smaller cities and rural areas—places where an 826 writing center will likely never be. We observed writing instruction and talked with teachers about what gets their kids excited to put pencil to paper.

We also shared "sacrificial concepts," rough sketches and prototypes of a wide variety of ideas, in order to gauge teachers' responses. This enabled us to dive more deeply into concepts that showed promise, while letting go of the ideas that just didn't resonate.

One early concept was to provide teachers with writing resources, such as lesson plans, but we soon realized that while lesson plans would be helpful, teachers really needed high-quality examples of student writing. Books and writing samples by adult professionals just weren't good enough. Students couldn't "see" themselves on the page, and they couldn't relate to most authors.

Based on our field research, we returned to 826 with this revelation. For a student, reading something written by another student—someone their own age, who looked more like them—could be world-changing. The 826 team saw a perfect connection between this need and their current programming. In fact, 826 writing centers had been publishing student work for the past ten years.

Over the next few months, we brought teachers into our office for rounds of feedback. Asking questions like: Was it intuitive? Compelling? Easy to use? Did it offer the right resources?
Project Outputs
Tools
We created an interactive proposal that 826 National could share with funders and stakeholders, in order to build momentum for this new initiative. The pitch was successful in garnering support for the design and build-out.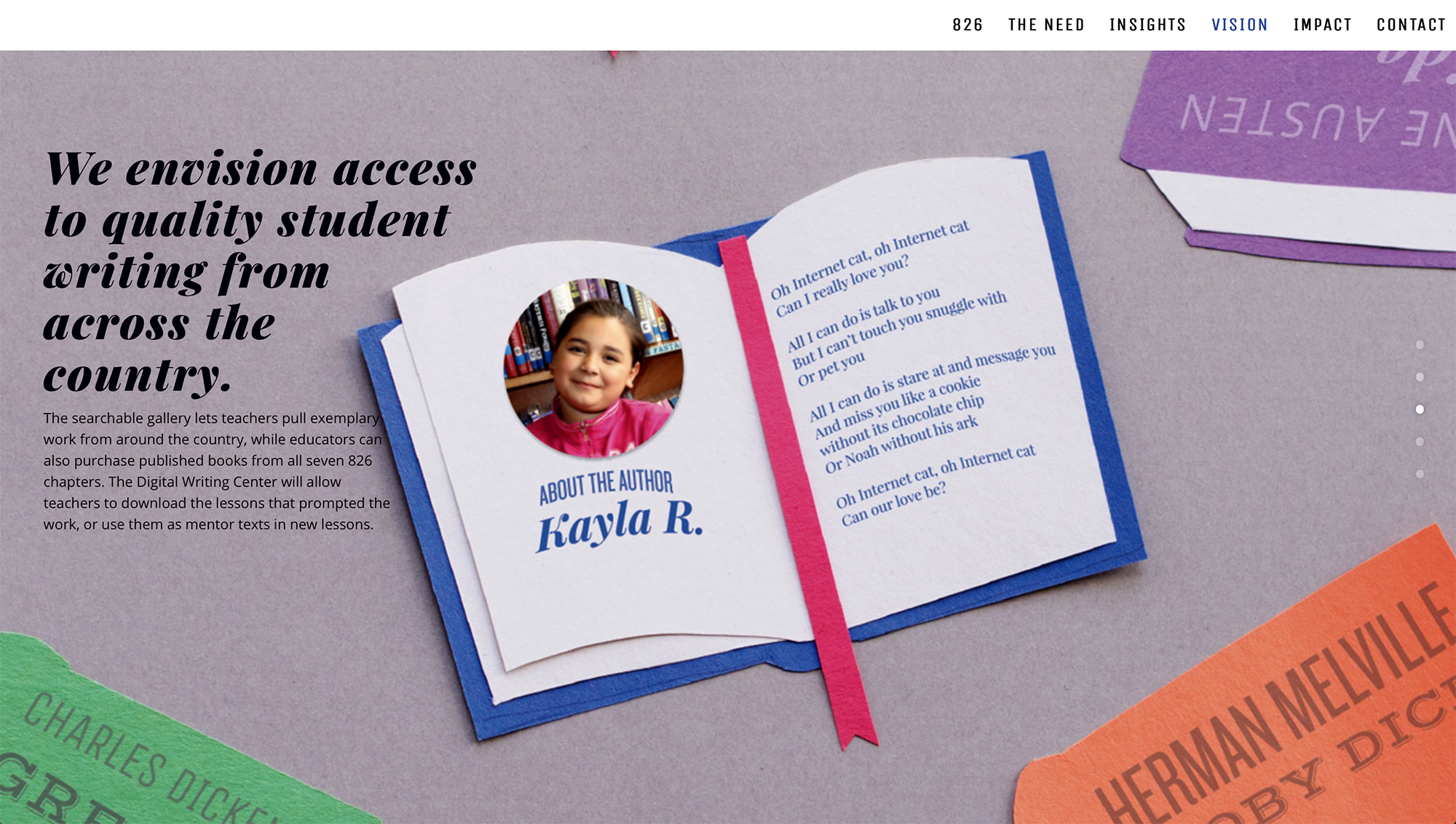 We designed 826digital.com to reflect the overarching principles of 826, while giving a distinct identity to the newest member of the 826 family.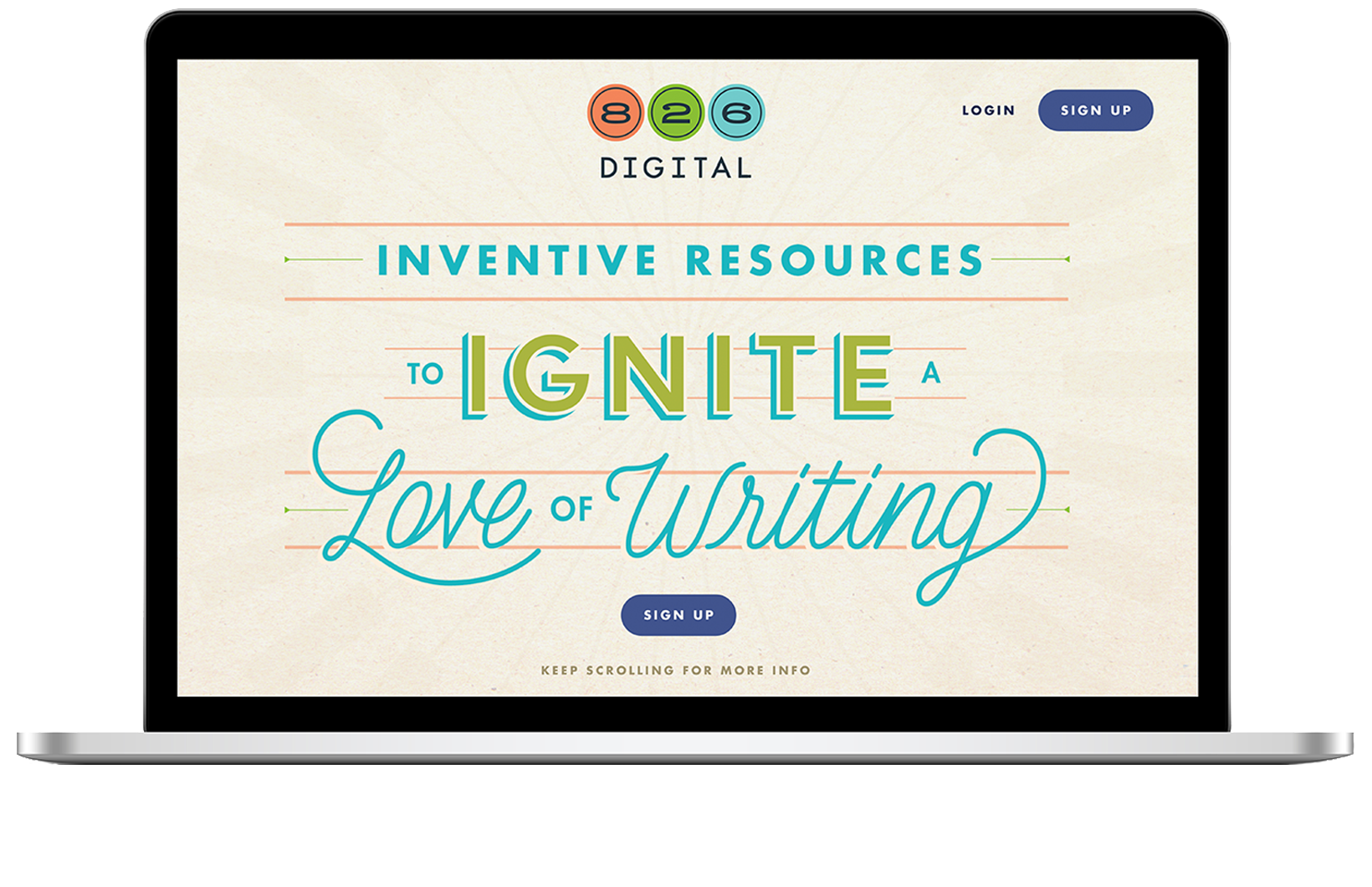 We defined the content types as Sparks, Lessons, Projects and Student Writing. Then we brought the website to life with copywriting, UX design, a logo and a set of brand standards.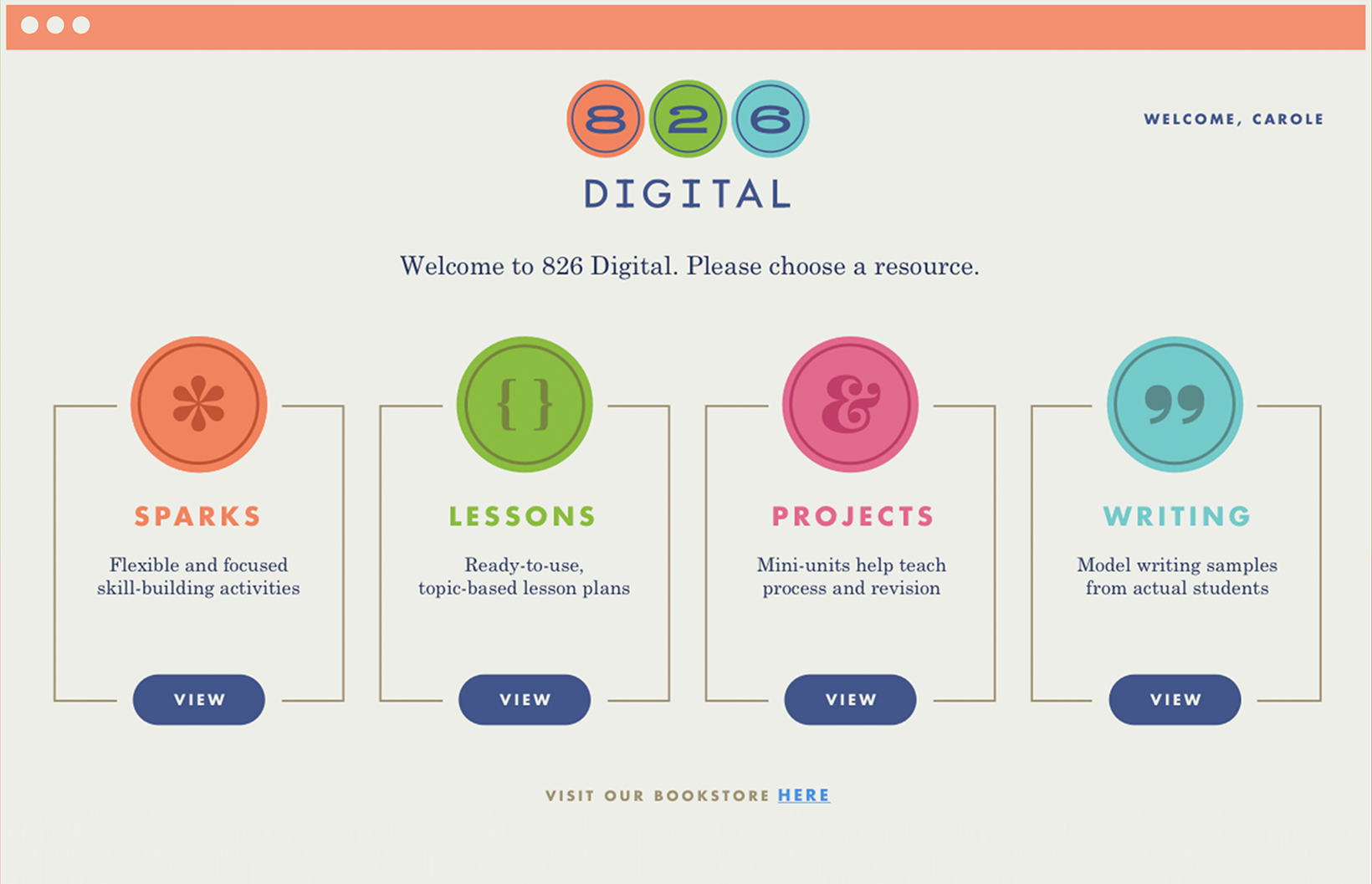 Teachers can access linked resources; in other words, they can search a lesson and see the student writing it yielded, or search a writing sample and see the lesson that produced it.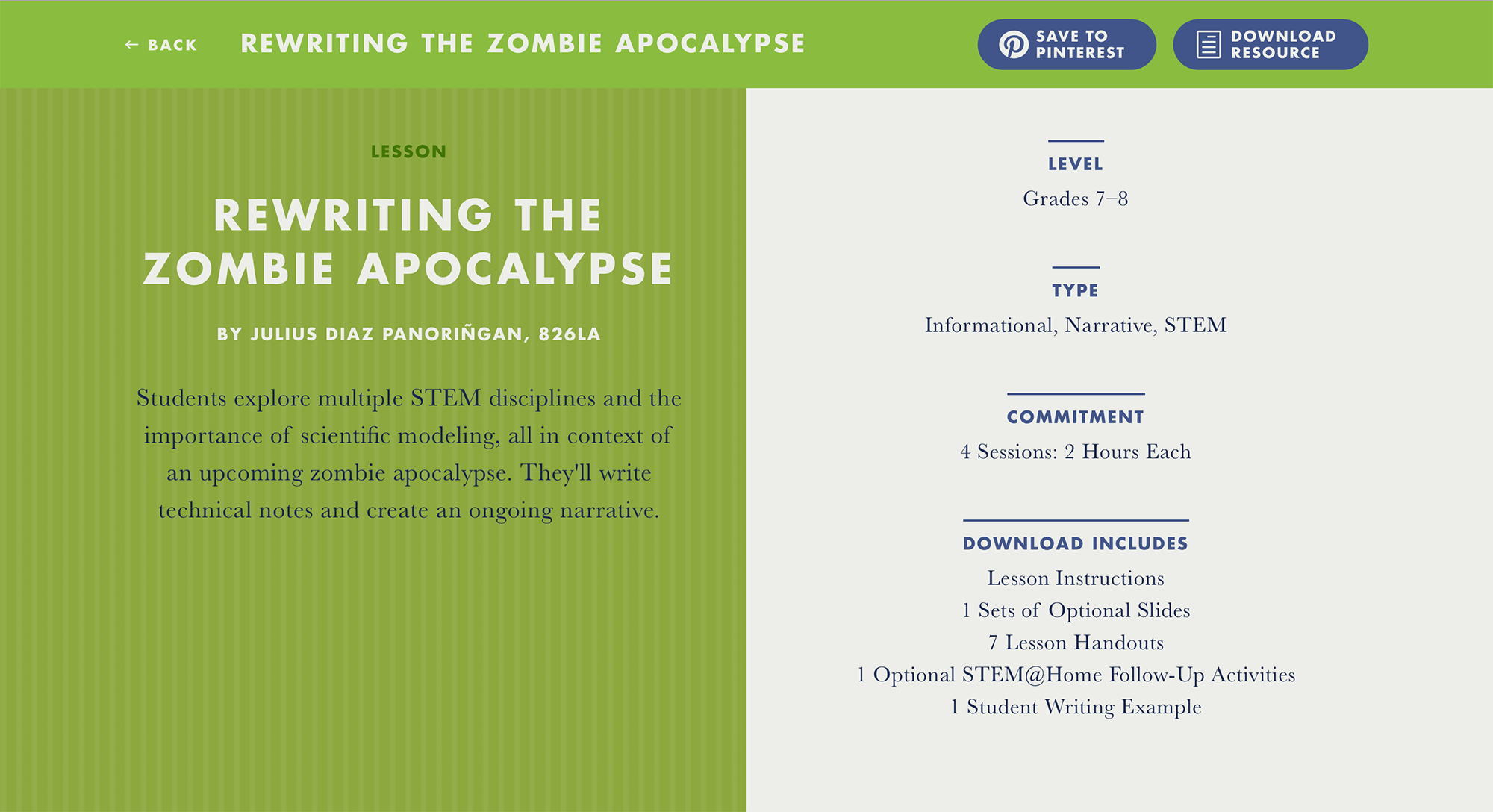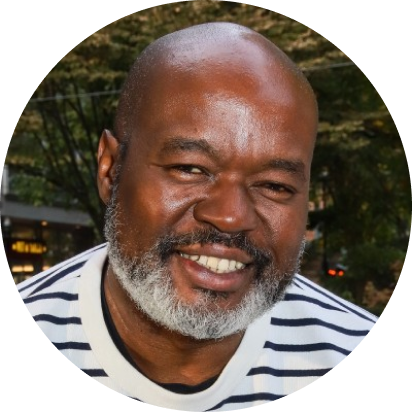 This process was one of the best professional experiences I have had in my career. In essence, GGS became embedded in our organization to learn about us, our culture and our pedagogy… Their work was at a depth I have received from very few consultants. It will be a game-changer for us.

Gerald Richards
Client & Community Outcomes
Mindsets
The client team at 826 National truly embraced the mindsets of human-centered design, including empathy and experimentation. Actively engaging them in the teacher feedback sessions was an excellent way to align our visions, bringing them closer to the day-to-day needs and experiences of classroom and after-school teachers. The team has also embraced the notion of "sacrificial concepts," sharing ideas with potential end users before they are fully-formed, in order to gather feedback and iterate.
The ultimate mindset shift is for more students across the country to be excited about writing, understand the writing process, and feel engaged in writing during parts of their school day. As of summer 2018, the site is being used by nearly 1,000 subscribers, including 675 self-identified educators who collectively serve over 25,000 students.