Sustaining the impact of an effective literacy program
Client
Reading In Motion is an established nonprofit with the goal of getting every student to read at or above grade level during their first years of school.
Geography
Chicago, IL
Topic Areas
Education
Youth Development
Project Types
Capacity Building
Programs & Services
Literacy is life-changing, and Reading in Motion's innovative curriculum has been proven to have immediate impact on student reading. But the organization had important questions about the sustainability of its impact. What happens after a teacher works with Reading in Motion? And how can we ensure that every RIM teacher continues to transform their students, year after year?
We worked with RIM to understand and define a strategy around impact sustainability. In the process, we observed nearly every facet of this 30+-year-old program, created sustainability principles for leadership, coaches, teachers and staff, designed and delivered a set of digital tools, and taught the organization how to create shorter learning cycles through the practice of prototyping.
We started research by observing the program from every angle, including traveling with coaches to classrooms and observing the RIM curriculum in action.

We shadowed and filmed teachers throughout their school day, immersing ourselves in the classroom context in order to understand where Reading in Motion fit within their constellation of responsibilities, priorities and needs.

One thing we noticed right away was how challenging it was for teachers to plan their small group sessions. Even though many had charts on the walls, the key to RIM's success was "dosage"—seeing each student for just as long as that student needed. Teachers and coaches used all sorts of workarounds to figure out dosage, such as moving around Post-Its with student names in response to the latest test scores.

Our research led to six principles for sustaining impact with teachers, and the client team brainstormed dozens of new program components in response to each principle.

We illustrated the ideas that generated the most enthusiasm from the RIM team, since they would be the ones to implement. The sketches served to both further develop the ideas, and communicate them out to the broader organization.

End user feedback sessions helped everyone understand how the various concepts might meet the needs of teachers and coaches. Based on these sessions, we narrowed down to a final set of ideas that the RIM team would work to implement the following school year.

At this point, the project split into two tracks. We took the digital concepts, such as an online curriculum and a data management platform, while Reading In Motion staff took the more "analog" concepts, such as new meetings, trainings, models and organizational values. We prototyped the digital concepts, and we coached each RIM staffer through prototyping their analog concepts.

We refined digital concepts through many rounds of testing and feedback—from visual prototypes on paper to clickable prototypes on screens.
Project Outputs
Strategies
Our overall strategic recommendation was for Reading in Motion to move from a program focused on student transformation, to one focused on teacher transformation. Accompanying this were a set of six sustainability principles, each with its own set of insights and opportunities for design.
Tools
We designed a digital platform, called My Reading In Motion, that enables teachers to better fit the program into their school day, and continue implementing it with or without a coach's support. It's been so successful that the organization has stopped printing its physical book. Teachers can now access the curriculum whenever they need it, and can target interventions for at-risk students with much more precision.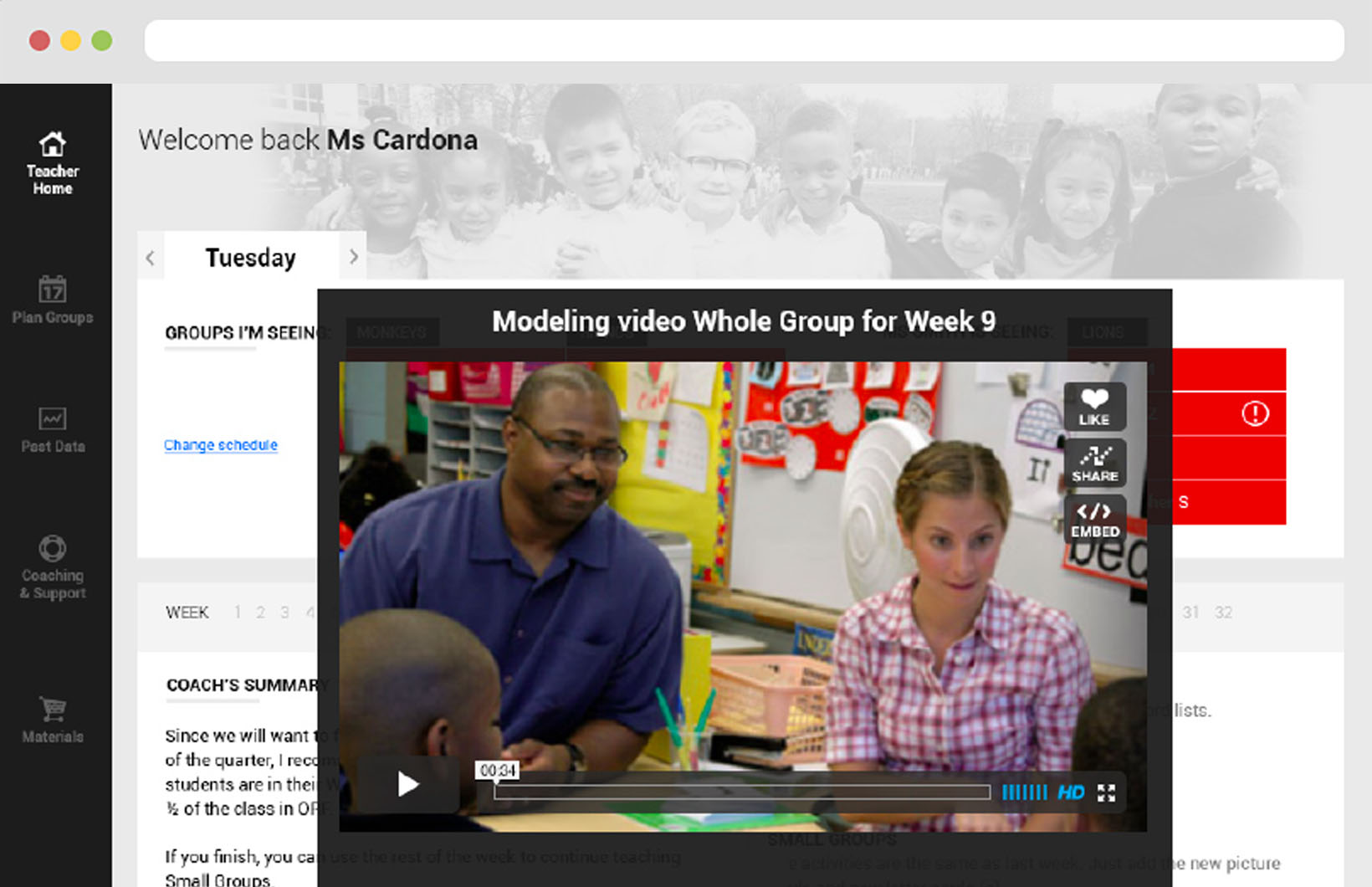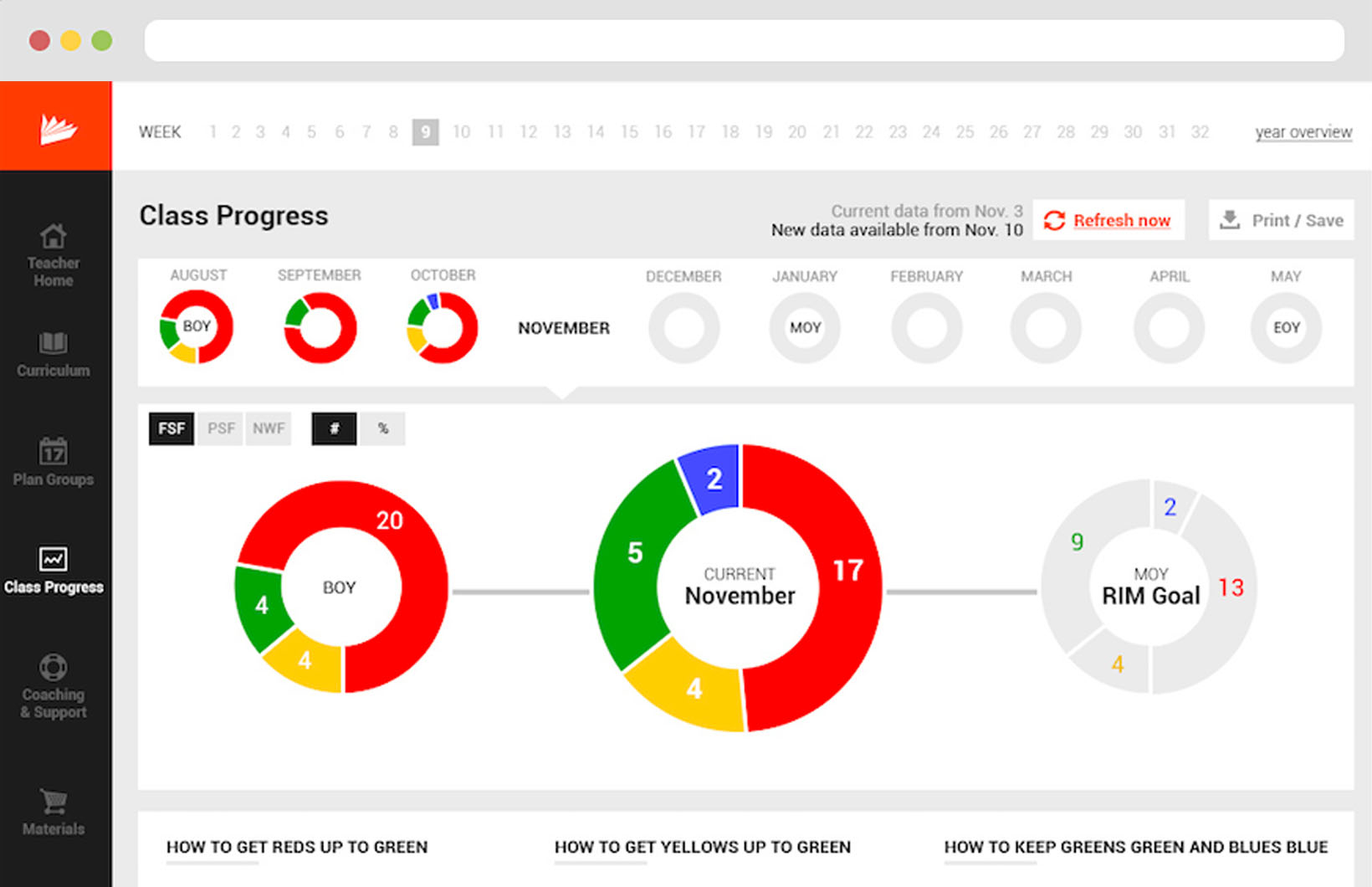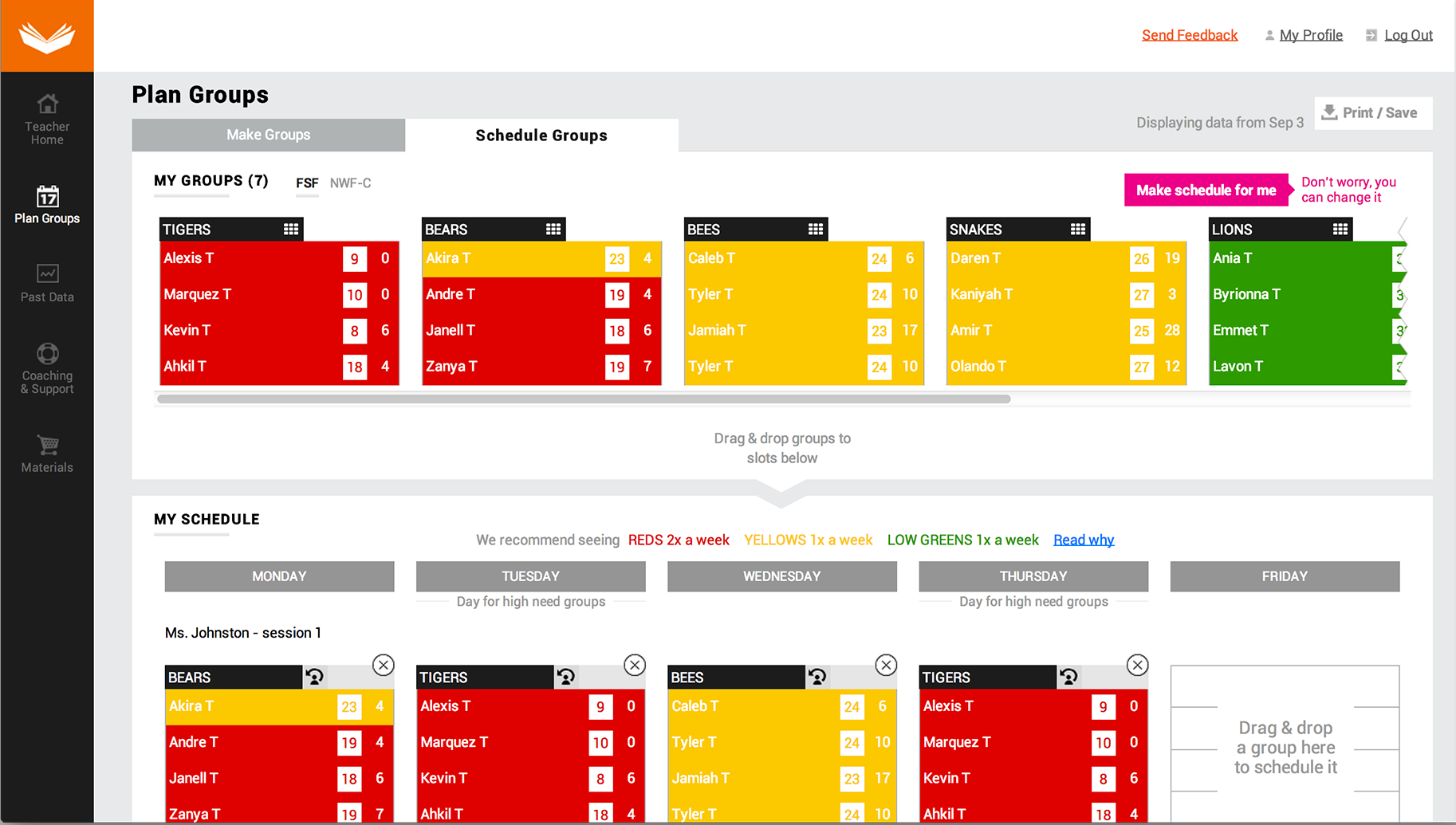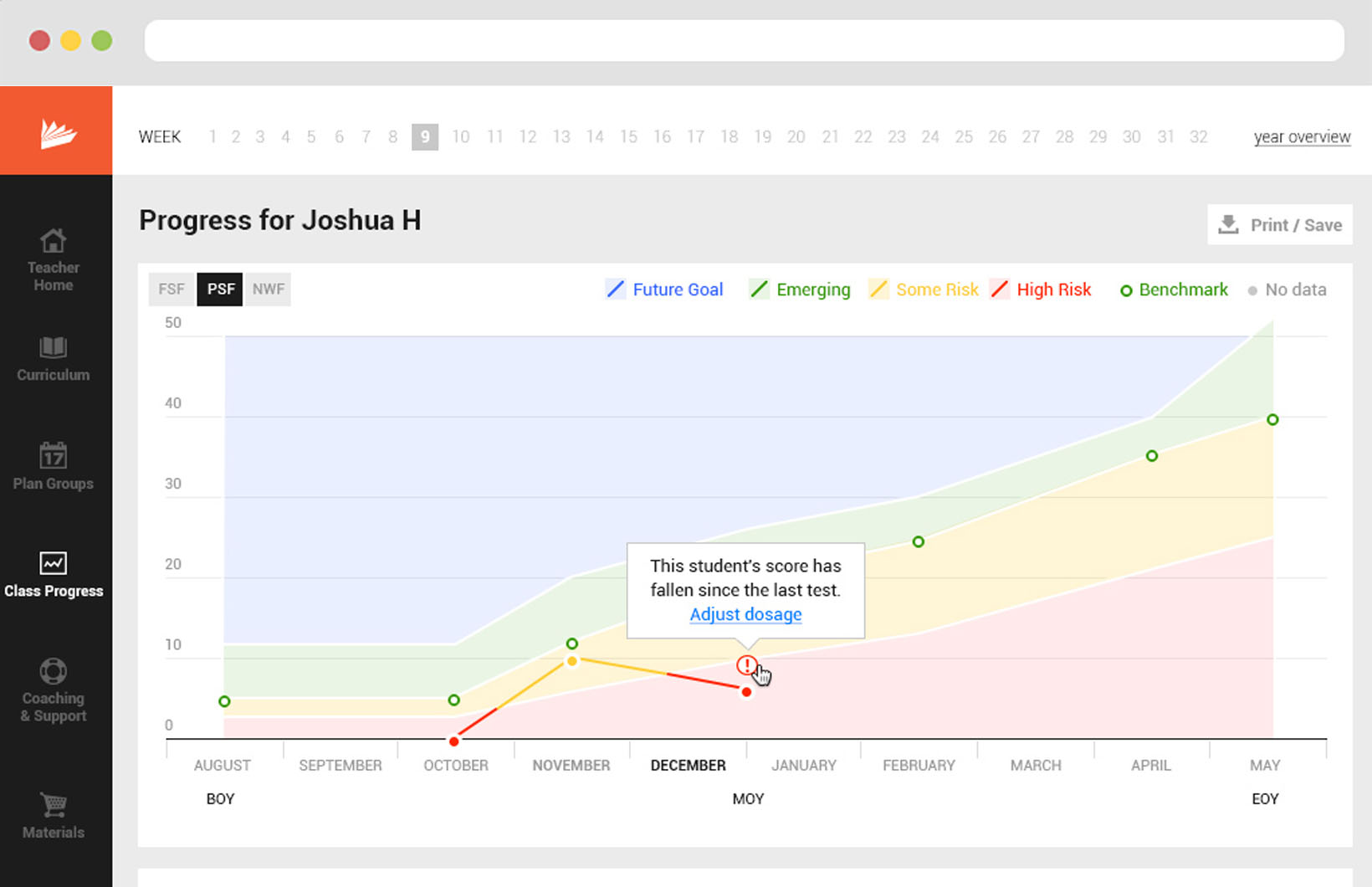 Programs
Our work together helped Reading in Motion to reimagine its programming through the eyes of its end users—teachers. RIM staff created programmatic elements such as a teacher-facing orientation video, a "quiet coaching" practice and a materials marketplace. They also prototyped and rolled out a new peer-coaching model, where teachers are trained by RIM coaches to lead the program within their school communities. That program, which began as a prototype, has now become an important part of the Reading in Motion offering.
Learning Experiences
We worked closely with stakeholders throughout Reading in Motion for almost two years, and created multiple learning experiences along the way – from formalized workshops and coaching sessions to end-user research training and immersion.
I was going back over the concepts, and I was amazed at how many have taken hold.

Elizabeth Johnston
Client & Community Outcomes
Mindsets
One of the first things to come out of this engagement was an internal alignment of the organization's values. The new set of values has served to re-orient staff members towards what we believe, rather than simply what we do, and the values have shown up across the program's communications, including website and teacher trainings.
Behaviors
In 2016, an outside study from 3D Group found that 12 teachers in two Chicago Public Schools were able to successfully transition into what the organization called "Sustainability Mode," where coaching was provided by Peer Coaches rather than RIM coaches. The differences between the two modes were not statistically significant. As a result, the evaluators recommended transitioning more schools which met the criteria into Sustainability Mode. This early indicator shows that RIM may be able to not only sustain, but scale its programming to serve more students.
Culture
Our time together helped the Reading in Motion team to embrace the concept of prototyping. Whereas before they would pilot a new idea for an entire school year, then determine its success, now they are much more comfortable creating multiple versions, quickly and cheaply, then using them to gather feedback and move forward. With significantly shorter learning cycles, the organization has become more nimble, responsive and innovative.